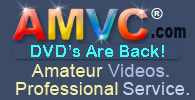 SEATTLE, WASHINGTON (August 3, 2005) – AMVC.com an amateur video production and distribution company, today announced that twenty new producers have been added to its site. Amagay, Campus Boys Videos, Factory Video Productions, Hung Punk Videos, IronVideo Productions, Jake's Casting Couch, M&L Friends, SpunkPunk, StriderGuys, and Tiki Boiz are the ten new gay producers. Blue Skies, Bubble Gum Amateurs, Flarez Productions, Joy Productions, Lakeview Entertainment, LSB Productions, NoisProductions, RAJ Entertainment, Sub Radar Productions, and SugarHill Productions are the ten new straight producers. These twenty new producers bring AMVC.com's producer/label total to 91 gay producers and 46 straight producers. Combined, these producers offer AMVC.com's customers more than 1000 films with an extaordinary variety of homemade videos from which to choose.
"Back in the day, I hated the pro videos that were out there," says AMVC.com's co-owner Allen McNulty, "but that was all there was." "Then one day a friend showed me a home video he made with his friend and I remember never feeling that horny before from a porn video. I wondered if there were others out there who would also like the truly homemade-amateur look and feel to a video, so I started making them. And the rest is history…" he adds.
AMVC.com is owned and operated by the good folks at On The Edge of Cyberspace, Inc. For more information, we hope you visit AMVC.com.