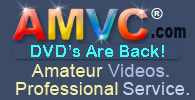 AMVC.com Adds Eight New Producers To Site
SEATTLE, WASHINGTON (November 6, 2004) – AMVC.com today announced that eight new producers have joined its site. Twisty Media USA, Cocktease Productions, Filthy Pig Productions, and Bold Exploration Video are the four new gay producers and Carlyle Entertainment Group, 6666Productions, Saber Media, and Amateur Flix are the four new straight producers. These
eight new producers bring AMVC.com's producer/label total to 117 gay
producers and 72 straight producers, offering customers a very wide
variety of homemade videos from which to choose.
"Major
studios slap the word 'amateur' onto their titles when there's nothing
at all amateur about them," says AMVC.com's co-owner Allen McNulty. "The
films listed on AMVC.com, however, are true amateur, homemade
videos–no pretense, no pro actors. They might have bad lighting, shaky
camera work….things that make some people think of those products as
low quality. But what they're missing out on are the millions of people who love that 'reality'. Real people having real sex in real settings. AMVC.com
provides amateur producers with a proven forum where they can sell
their homemade films to customers who can't get enough of this genre."
he adds.
AMVC.com is owned and operated by the fine folks at On The Edge of Cyberspace, Inc. For more information, we hope you visit AMVC.com.