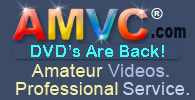 AMVC.com Adds Twenty-Eight New Producers To Site
SEATTLE, WASHINGTON (June 18, 2006) – AMVC.com, an amateur video production and distribution company, today announced that twenty-eight new gay and straight producers have been added to its site.
CamsOnDemand, Big Red Curtain Productions, Commando Video, Don't Bet Me, Fresh Boyz Productions, Hazloke Video, Hot UK Club, Jerk Studios, Pig Daddy Productions, and SSP Productions are the ten new gay producers.
The eighteen new straight producers are: Andrew Ward TV Productions, Atlanta Erotic Video, Butterwaters, Chelsea Videos, CyberDyke, Emerald City Studios, FC Productions, FLT Videos, J & S Videos, MarkCom Productions, Misty's XXX Girls, Pinkybricks Productions, SexMeUp Videos, Synergy Films, Texxxas Entertainment, TnA Films, Toxxxic Video, and Vagabond Entertainment.
These twenty-eight producers bring AMVC.com to 106 gay producers and 61 straight producers. Combined, these producers offer AMVC.com's customers more than 1450 films with an extraordinary variety of homemade videos from which to choose.
"The purpose of AMVC.com remains the same, says co-owner Allen McNulty. We offer amateur producers a distribution point for their unique videos, as well offering our customers an extremely large and diverse place to find homemade videos."
AMVC.com is owned and operated by the good folks at On The Edge of Cyberspace, Inc. For more information, we hope you visit AMVC.com.