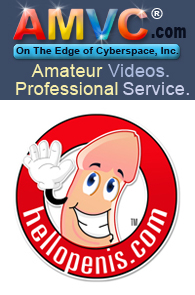 ---
Sell Your Porn Clips/Videos & Make Money!
AMVC Areas
AMVC Submission
Information
Resources

*Always consult a professional first.
---
Submit A New Video To AMVC
Part 2

Follow these instructions (part 2) and complete the form on the previous page (part 1) each time you send a new video to AMVC so that we will have all of the important data for your new release.

---

You will need to provide the following items with every new film to be released on AMVC:

Under the recently amended law there is no longer a distinction between Primary Producer and Secondary Producer. A person is either a Producer or he is not. Although we disagree, the law clearly views AMVC as a "Producer" because we duplicate your films to fill orders and because we maintain a website with images from your films. As such, we are REQUIRED to maintain copies of your model documentation. Here is a list of what we will need:



A completed and signed 2257 Compliance Form. Click Here to get a copy for your use in PDF format or Click Here to get a copy for your use in HTML format.



Clear and legible copies of model releases and IDs for every performer in the film.


If you are a USA based producer shooting sessions in the USA then the ID has to be issued by the US Government or a state government (or Washington DC), have the photo, name, and birthdate of the performer, show a document number so the inspectors can access an original document from the issuing authority if they choose to do so, and the ID must not be expired atthe time of filming. The common examples are: USA Passport, USA Green Card, State Driver's License, State ID Card, USA Military ID.
If you are a USA based producer shooting sessions outside of the USA then you may accept model IDs from any country as long as the IDs meet the same standards as a US ID, i.e. it must be issued by a federal governement or a state/territorial/provincial goverment, have the photo, name, and birthdate of the performer, and show a document number so the inspectors can access an original from the issuing authority if they choose to do so. The common examples are: Passport, Citizen ID Card, Driver's License, Voter Registration, Military ID. In such cases, please complete an Affidavit for Filming Outside of the USA form and send it in with the film.
To repeat: The ID has to have a recent and recognizable photo of the model, the model's name, the model's birthdate, the ID document number, and the ID must not be expired at the time of filming.



An index file for the performers in the film in Excel Spreadsheet or Word document format. Please send the data file itself, not a print out on paper, as we will integrate your data into the master index file that we maintain for all AMVC listed films. Your index file should be an EXCEL spreadsheet formatted document like this example. You can right-click that link and select ''Save Target As'' to save the template to your computer. If you do not have EXCEL then you can use a Google Spreadsheet for free and it will allow you to export the file in .xls format and you can email that exported file to AMVC.



Finally, the film must contain a 2257 Compliance Statement in the film itself. Be Aware! This compliance statement is not a joke, it cannot be in hard to read colors, or in tiny type, or come and go so quickly that no one can read it. AMVC will reject films that do not meet all of the following criteria:


Compliance Statement Content: The statement must list the title of the film, the first name (or initial) and full last name of the Custodian of Records, the full and complete physical address where the records are stored (P.O. Boxes and Private Mail Boxes are NOT permitted), and the dates (in this format: 01/11/2009) of production for the film.
Compliance Statement Format: The text must be black on a white background and the text must be large enough, and stay on the screen long enough, to be easily readable. We recommend a minimum of 20 seconds.
Locations Of Compliance Statement on Film: A film must display the 2257 Compliance Statement within one minute of the start of the film and before the first scene. We recommend the statement be placed at both the front AND back of the film so that it covers all bases. The 2257 Compliance Statement must be displayed before any nudity is shown in your menus or film. We recommend that the 2257 Compliance Statement be placed in the "autoplay" zone when you master your DVD. Please check the instructions of your DVD mastering program to see how this is done.
Compliance Statement Wording: The 2257 rules do not spell out the exact wording of the compliance statement but here is an example you might use:

All performers appearing in (insert film title here) were eighteen (18) years of age or older at the time of filming. Proof is on file with the Custodian of Records (insert first and last name here) located at (insert complete address here). Dates of Production: (insert filming dates here, for example: 01/11/2009).

---

Send your video product, copies of the model releases, IDs, and index file, and the completed and signed 2257 Compliance Form to:

New Shipping Address Coming Soon

We recommend that you use Express Mail from the U.S. Post Office if you are within the USA or Registered Air Mail if you are outside of the USA.

When we receive your package we will review the information and if everything is in order we'll enter your film into the release schedule. If there are any irregularities we will send you an email explanation.
---
---
© 1997-2022 AMVC. All Rights Reserved.
Prices and Terms of Service are subject to change without notice.
Offers void where prohibited. Only one coupon code per order.
We are not liable for pricing or typographical errors.
Our videos are amateur-homemade, adults only, entertainment that are never to be shown to minors, and are for personal use only.

All videos comply with Section 2257 of Title 18 U.S.C.


Adult Webmasters - Make Money From Your Porn!