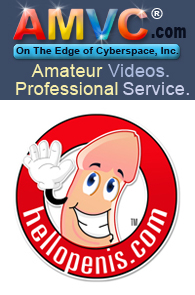 ---
Sell Your Porn Clips/Videos & Make Money!
AMVC Areas
AMVC Submission
Information
Resources

*Always consult a professional first.
---
Porn Producer's Website
---

Submitting New Videos for AMVC


1.) Sign AMVC & Streaming Contracts
2.) Snail Mail Or (Preferably) Upload To An Account On Our Server We Create Just For Your Videos & Info), Model Documents, 2257 and Media (MP4 Or Only As High As 4K Video Files)
3.) We Also Need A Meta Data Disc Or File Upload (Has All Of Your Description, Scene Names, Etc. We Can Send You An Example :)
4.) Read the rest of information pertaining to selling your video.

---

W9 for 2017


All producers with offices in the USA need to complete a new W9 form for the tax year that ends on Dec 31, 2017.

If you have not yet done so, please take a moment to click here for the PDF file.

Fill it out, print it, sign it, scan it and mail it to us at:

AMVC
PO Box 632
K'ville, NC 27285

Please complete this ASAP. Producers who have not completed a W9 for 2017 will be subject to a government mandated 28% Backup Withholding Tax from all of their royalty checks.


---

Online Resources for USC 18 Section 2257 Law and CFR 28 Section 75 Regulations


USC Title 18 Section 2257
This is the current law pertaining to recordkeeping for our industry.

CFR Title 28 Section 75
These are rules and regulations that administer the 2257 Laws.



---

AMVC Model Documentation Policies


Under the amended 2257 law there is a (stay of execution) about the distinction between Primary Producer and Secondary Producer. A person is either a Producer or he is not. Although we disagree, the law clearly views AMVC as a "Producer" because we duplicate your films to fill orders and because we maintain a website with images from your films.

Here's what that means to you...Your Custodian of Records information must still appear in the film itself and on any labels or covers that you print up for your own use. Just to be clear...we are NOT your custodian of records for any film that you sell or any website that you maintain. This pertains only to the films sold by AMVC and the websites we maintain. You are not allowed to list us as your Custodian of Records.

We are required to have complete model docs (ID copy, Release Copy, Index File) for every performer in every film you have listed on AMVC.

If your film has commercials or trailers or previews for other films, those previews must be legal, too!




---

2257 Definitions of Acceptable Performer ID's

If you are a USA based producer shooting sessions in the USA then the ID has to be issued by the US Government or a state government (or Washington DC), have a photo, name, and birthdate of the performer, and show a document number so the inspectors can access an original from the issuing authority. The common examples are: USA Passport, USA Green Card, State Driver's License, State ID Card, USA Military ID.

If you are a USA based producer shooting sessions outside of the USA then you may accept model IDs from any country as long as the IDs meet the same standards as a US ID, i.e. it must be issued by a federal governement or a state/territorial/provincial goverment, have a photo, name, and birthdate of the performer, and show a document number so the inspectors can access an original from the issuing authority. The common examples are: Passport, Citizen ID Card, Driver's License, Military ID. In such cases, please complete an Affidavit for Filming Outside of the USA form and send it in with the film.

NEW POLICY: We No Longer Accept Any Producers Outside of the U.S.

---

Compliance Statement In Your Film

Your video must contain a 2257 Compliance Statement in the film itself. Be Aware! This compliance statement is not a joke, it cannot be in hard to read colors, or in tiny type, or come and go so quickly that no one can read it. AMVC will reject films that do not meet all of the following criteria:


The statement must list the title of the film, the name of the custodian of records (FIRST INITIAL AND LAST NAME ONLY! (A company name is NOT permitted), the full and complete physical address where the records are stored (P.O. Boxes and Private Mail Boxes are NOT permitted), and the dates of production for the film.
The text must be in a clear and legible font/background color combination (black on a white background works well) and the text must be in at least 12pt type (large enough to read easily), and stay on the screen long enough for the average person to read it completely (at least 20 to 30 seconds).
A film with end credits for production, direction, and distribution shall place the statement at the end of the end titles of the film. All others must place it within one minute of the start of the film and before the first scene. We recommend the statement be placed at both the front and back of the film so it covers all bases. If your film is on DVD then we recommend the compliance screen come up as an "auto play item" before the main menu screen. If you cannot make it an "auto play item" then remove all nudity from your DVD menus and make the compliance screen the first thing that comes up when the viewer chooses "play movie".
The 2257 rules do not spell out the exact wording of the compliance statement other than as listed in item (a) above. Here is an example of what we use on our own films:

All performers appearing in (insert film title here) were eighteen (18) years of age or older at the time of filming. Proof is on file with the Custodian of Records (insert name here) located at (insert complete address here). Dates of Production: (insert filming dates here).

---

Policies for Film Acceptance

Every film must meet certain criteria before it can be accepted at AMVC:



A completed and signed 2257 Compliance Form must be submitted with each film. Click here to get a copy for your use.
You must supply clear and legible copies of model releases and IDs for every performer in the film.
you must supply an index file for the performers in the film in Microsoft Excel document format.
The film must contain a 2257 Compliance Statement in the film itself. This is different than the 2257 Compliance Form discussed above.
Due to the wide variety of federal and state obscenity laws in the USA and throughout the world, AMVC.com prohibits certain content in the films we sell. We will decline to carry any film which contains the following content, whether actual, simulated, or apparent.:

Incest: Sex between persons who are related by blood or marriage closer than cousins
Drug Use: Any use of any illegal narcotic or consumption of alcohol by persons under 21 years of age
Scat: Any depiction of feces or defecation
Snuff: The death of a performer on film
Blood: Human or otherwise
Child Pornography: Any performer under the age of eighteen years
Bestiality: Sex between a human and an animal
Fisting: Insertion of more than four fingers into the anus or vagina of a performer
Rape/Violence: Forced sexual activity
Any other content easily described as obscene, grotesque, or perverse

Your film must be at least 15 minutes in length not counting any trailers or slideshows, or previews.
You must complete our online New Video Information Form and supply a complete and ACCURATE text description of the action shown in the film.
You are giving us certain All-World rights to sell, distribute, and market your videos.

After we receive all of these items we will review them and contact you if there are any problems.
---
© 1997-2022 AMVC. All Rights Reserved.
Prices and Terms of Service are subject to change without notice.
Offers void where prohibited. Only one coupon code per order.
We are not liable for pricing or typographical errors.
Our videos are amateur-homemade, adults only, entertainment that are never to be shown to minors, and are for personal use only.

All videos comply with Section 2257 of Title 18 U.S.C.


Adult Webmasters - Make Money From Your Porn!