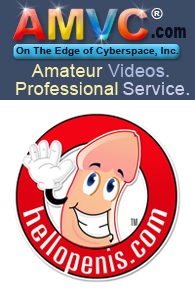 ---
---
Adult Webmasters
Why Become An AMVC Producer?
Thank you for your interest in joining AMVC.com as an associate video producer. Once you've produced your video, the most important thing is to get it out to the buying public so they can enjoy the fruits of your hard work. That's where AMVC can help you out.
AMVC was designed in the mid 90's to do one thing: handle the marketing, duplicating, and distribution tasks of amateur adult video producers, especially people who really enjoy making videos but might not have access to thousands of online customers eager to purchase their product; people like you who are good with a camera but can't be bothered to do all of the footwork needed to actually sell their videos. In short, people who want to have all the fun and get paid for it, without having to endure much of the actual WORK that comes with the job.
What do you get from your association with AMVC? Well, here's a little list of the big benefits:
Exposure To Our Traffic. AMVC.com receives a TON of quality, focused, traffic and twice a week we send out email updates to thousands of email subscribers so they are constantly reminded that AMVC.com is ready to fill their amateur porn needs!
Quality Control Safeguards. Every film we ship out is duplicated on high end DVD equipment so that the customer receives the best copy possible. Everyone knows that amateur video is prone to bad lighting, choppy editing, and jittery camera work, so we make sure the customers won't have to worry about getting a bad copy.
Fast Order Fulfillment. AMVC.com prides itself on being the best at getting customer orders mailed out quickly. Packages usually ship out the day after the order is approved, so it usually takes less than a week before the customer has it in their hands.
Excellent Customer Service. AMVC.com is the largest amateur adult video distributorship on the web but we never forget that without our customers and producers, we are nothing. We bend over backwards to see that every customer service issue is settled quickly and with as little "hoop jumping" as possible. Defective or damaged films are replaced without question and special requests are handled with a personal touch.
Loyal Customers. Because of our excellent customer service, secure ordering environment, ability to order online, by telephone, or mail order, discreet packaging, and quick delivery, (and, of course, our very unique and hot videos!), our customers have grown to know and love AMVC.
Access to Our Amateur Erotica Brain Trust. AMVC.com is ready and eager to answer any and all of your questions concerning video production, customer trends and technical issues. All you have to do is ask and if we don't know then we'll find someone who does and get the answer for you. BTW, the most common question of new producers is...Where do I get music for my videos? The answer is: nowhere. Overwhelmingly, customers prefer the live sound recorded during the session instead of the canned and cheesy porno music heard in other productions. Our online customer survey has proved this beyond a doubt.
By now you're saying, "Ok, that's a good P.R. speech, but what have I got to do to get started and what's this gonna' cost me?" Both very fair and appropriate questions, let's look at the answers:
Because AMVC.com is an extraordinary enterprise (a marketing company, a duplication service, and an order processing center all rolled into one) we need to have extraordinary access to your product. We will need you to send us all of the following items on each product that you want listed on AMVC:
A high quality DVD duping master made directly from your final edit OR you may upload your video files to our FTP server!
A detailed text description of the action in your film.
A signed 2257 Compliance Statement for each of your video products.
Once we have all of this we also need your trust.
Of the four items listed above, the final one will be the most difficult. So many times you will find dishonest and sleazy people in the adult industry, but at AMVC you have located honest and professional business people who realize that dealing above board is both easier and more rewarding than working in the gutters. A well known policy during the Reagan era when dealing with the Soviet Union was "Trust Through Verification". We hope you'll trust us, but we expect you to test us to find out if we're trustworthy. We don't have live online sales reporting, but we do send out detailed sales reports each pay period showing the customer's last names for each purchase. Some of our producers have gotten their friends to purchase DVD's from us now and then and looked to see if their friends' names show up on the sales reports. Trust And Verify!
Once AMVC has all of your items, we will prepare a set of pages on the AMVC web site to showcase your porn video products. We'll announce your new releases in our weekly email update so the customers will check you out. This is where we could say "and then the sales come rolling in", but because we ARE honest we won't tell you that. Sales WILL hopefully come in but no one knows if they will come in one at a time or by the dozens. As you may have learned already, customers can be fickle and what sells well today may not sell as well tomorrow (and then start selling well again later).
Now for that money answer: There are no up front costs to join AMVC. There is a charge for the services we perform, but it is taken as a 25-50% commission on the sales your product generates. So, we do all of that work and if your products sell only one copy then that's all we ever earn. I think you can see that our business model makes it very important for us to see that your film has the best possible chance of being a blockbuster. When your products sell well, we ALL benefit.
Now, let's peek at the legal and tax issues. AMVC is a legitimate business (you may verify us by looking up our corporate site, AMVC in WA state) and pays all of its appropriate taxes and you will have to do the same. If you earn $600 or more in a calendar year we will report that revenue on a form 1099-Misc so you will need to make sure to include your AMVC commissions on your annual income tax forms. If your DVDs sell particularly well, then you may also need to make estimated quarterly tax payments so you're not hit at one time at tax time. Uncle Sam wants his cut of your money and he will hunt you down.
Also, we STRONGLY recommend that you treat this like a business. For example: Obtain a business license and look into the zoning ordinances in your area to make sure that you are not in violation. Trust us on this one, zoning can get you into a lot of hot water.
The government has strict rules on the kinds of paperwork you have to keep on each model you film. Most of the laws and regulations are linked in our Producer FAQ among answers to other questions. Take the time to read everything we've posted and linked so that you know what you have to do and how you have to do it. If the Department of Justice comes knocking on your door they are going to examine your model documentation and it had better be in order. Please don't ask us legal questions, as our reply is always "Contact an attorney. We are not lawyers."
One last thing, and maybe this should have been listed first, many places still have laws in place regarding "sodomy" and "unnatural acts", even in the privacy of your own home. These laws and the zoning ordinances can be used to shut you down, and in worst-case scenarios, land you in jail. Be informed and be careful.
---
---
© 1997-2022 AMVC All Rights Reserved.
Prices and Terms of Service are subject to change without notice.
Offers void where prohibited. Only one coupon code per order.
We are not liable for pricing or typographical errors.
Our porn videos are amateur-homemade, adults only, entertainment that are never to be shown to minors, and are for personal use only.
All videos comply with Section 2257 of Title 18 U.S.C.


Adult Webmasters - Make Money From Your Porn!